Photobio T 300W 100-277V S1 spectrum
PHOTOBIO•T represents the apex of LED Top lights. PHOTOBIO•T can be applied indoors or greenhouse as a direct 600W HID alternative or retrofit. Patented PHOTO•PRO Photon Regulating Optics ensure the most efficient delivery of plant biologically active radiation (PBAR) to the plant canopy. PHOTO•LOC Light Output Control allows precise control over the photons that are delivered to the plant canopy when used in conjunction with a 0–10V controller. In greenhouse facilities, PHOTOBIO delivers consistent optimal PPFD levels throughout the day while saving energy. Just pair PHOTO•LOC with an environmental control system that utilizes a quantum sensor to measure light entering the greenhouse and automatically regulate light output in real time. The specific power cable is sold separately based upon your requirements.
Both S1 and S4 spectrums are available in 100V through 480V configurations.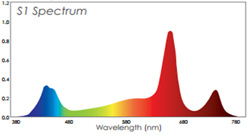 S1 Spectrum: Developed for businesses that are heavily focused on flower production for the eventual extraction of pharmaceutical grade concentrates. Provides UV and Far Red outside of the PAR range. UV is responsible for increased terpene content, pest and pathogen resistance, and color expression. Far Red light is responsible for increased leaf size, which contributes to driving other processes in the plant. More leaf surface area increases photosynthesis, which in turn increases flower and fruit biomass.S1 is designed for application exclusively in flowering phase.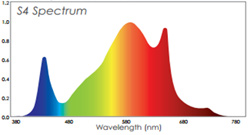 S4 Spectrum: Provides highly efficient full spectrum with a healthy red-to-blue ratio to drive photosynthesis. Light energy between 500–599nm, previously thought wasted, penetrates deeper into the plant canopy promoting photomorphogenic responses. High color rendering "white" light aids to rapidly identify potential threats to your crop and provides superior working conditions and safety for personnel. Ideal for both flowering and vegetative production.

FEATURES:
High capacity production capabilities backed by technology from one of the world's largest LED chip manufacturers
Slim linear design minimizes sunlight interference in greenhouses and can be tucked under existing support structure
Patented heatsink design maintains ideal operational temperatures of LED diodes ensuring consistent light output and yields
Patented PHOTO•PRO Photon Regulating Optics create unrivaled uniform light delivery to your plant canopy
100-480V Driver Options
German Made Wieland IP Rated Input Power Connection
PHOTO•LOC Light Output Control access any 0-10V signal to control photoperiod and dimming
Antireflective coating on the inside of lens ensures maximum photon transmission
Frosted lens to properly blend spectrum
True IP65 protection against water and dust
Power cable sold separately based upon your specific requirements
Power Cord options listed below:
BAFLTEXT - Weiland quick disconnect power cord, 3' cord, no plug bare wire
BAFLTEXT1 - Weiland quick disconnect power cord, 8' cord, no plug bare wire
BAFLTEXT2 - Weiland quick disconnect power cord, 8' cord, L7-15P Plug
BAFLTEXT4 - Weiland quick disconnect power cord, 8' cord, 5-15P Plug
BAFLTEXT5 - Weiland quick disconnect power cord, 8' cord, 6-15P Plug

Satisfaction
Guaranteed
Discreet
Shipping
Free Fast US Delivery
For Orders Over 99$
Guaranteed
Safe Checkout
Free, Fast Local Shipping
All continental US orders over $99 qualify for free shipping.
Discreet Shipping
We understand the importance of privacy to many of our customers. All orders placed on Growbuds are shipped in plain boxes without explicit identifying marks.
Estimated Arrival
Between 1 and 5 business days, depending on your location.
Easy Returns
For up to 90 days, depending on the brand.
Please refer to our Shipping & Returns policy page for more detailed information.

All products sold on Growbuds are subject to the respective manufacturer's warranty policy, which can be found on manufacturers websites or by contacting them. If your product fails in the remainder of our returns period, the manufacturer's warranty policy will prevail. In this case, send us an email at support@wegrowbuds.co and we will assist you in your warranty claim by helping you coordinate with the original manufacturer.
Our experienced commercial team has helped supply hundreds of indoor, outdoor and commercial greenhouses projects in Canada and the United States.
Looking to get a quick quote? Contact us at support@wegrowbuds.co or call at 1-877-900-2632 option 2 to talk with a Growbuds sales representative. Otherwise please fill out the quick form below and we will be in touch as soon as possible.
United States Headquarters
2915 Ogletown Road
Newark, DE 19713, United States
Canada Headquarters
295 Cure-Labelle Boulevard,
Laval, QC H7L 2Z9, Canada
Call Us
Toll Free: 1-877-900-2632
Hours: 9AM - 5:00PM EST
You may be wondering why you should buy your grow lights from us, instead of other available authorized dealers. Read on for the answers to all your burning questions.
10 Reasons To Trust Growbuds With Your Business
Customer Service
We are here to help and want the best for you. Use our live chat, email us at support@wegrowbuds.co or call us at 1-877-900-2632 during business hours. We are always here for you.
Full Warranties and Generous Return Policies
We only carry top American brands that back their products with full warranties and return policies of up to 90 days, depending on the brand.
Earn Growbuds Points
Earn points on all your purchase and save big on your next purchases. You'll earn 4 "Nugs" for every dollar your spend. You can then use your "Nugs" to save on your next grow room upgrades. Get started by creating a free account today.
Price Match
We want you to be absolutely secure that you're getting the best price with us, so we will not only match a lower price you find online before purchase, but will even refund you the difference up to a month after purchase.
Discreet Insured Shipping
All orders ship via FedEx, UPS, and USPS, or a reputable freight company and the shipment is always insured, so you do not have to worry about a lost or damaged package. You also don't need to worry about prying eyes: all orders ship discreetly.
Hassle-Free Returns
For up to 90 days, please refer to our Shipping & Returns policy page for more information.
Free Shipping
On orders over $99 to the lower 48 states.
No Sales Tax Anywhere
Except for MI, and CA for some brands.
Authorized Dealers
We only carry American brands whose lights and other products have been extensively tested by real growers and processors. 100% US warranty on all products.
Safe & Secure Systems
In place for every payment transaction.
Frequently Asked Questions
Growbuds Grow Club
Get the rewards you deserve. With the Growbuds Club, you'll earn rewards for every dollar your spend and save big on your future grow room upgrades. Get started by creating a free account today.
Get Started