The Phantom 1XL delivers the latest in high-end LED tech. The commercial-grade fanless Mean Well 100-watt dimmable driver not only gives you reliability and efficiency, but full control of your light intensity with dimmability between 10-100%.
The overbuilt Optic XL anodized black, pin heatsink ensures the lowest running temperatures for low BTU output, maximum light production, and the longest lifespan.
The integration of 8 CREE XPE Deep Reds & 4 CREE XPE Royal Blue LEDs enhances the 3500K full-spectrum white light base, giving you a spectrum that your canopy can absorb easily, even at higher intensities. 
The Phantom 1XL Dimmable features the latest and most efficient Samsung white light LED tech in the marketplace today - the LM301H top-bin array. What can Phantom Tech do for your garden?
Phantom 1XL Dimmable Components
LED: 372 Total LEDs 
   White LEDs: 360 x Top Bin Samsung LM301H   
   Bloom Enhancers: 8 x CREE XPE Deep Reds, 4 x CREE XPE Royal Blue LEDs
Lens: Optional 120-degree wide beam acrylic lens 
Driver: Meanwell Dimmable HBG Series
Thermal management: Passive cooling from an overbuilt anodized black pin heat sink (no fans) 
Spectrum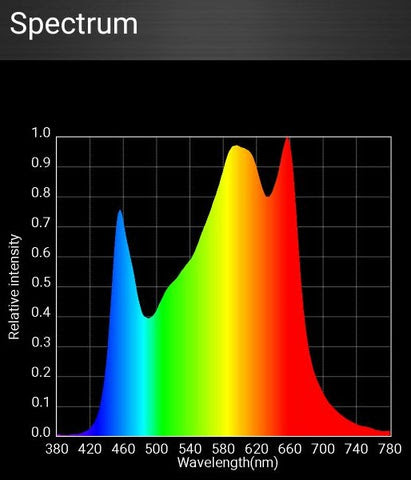 PAR 
Phantom 1XL in 2x2 area (NO LENS) tested with Apogee MQ-500 meter
8" Hanging Height PPFD: 803
803.31 PPFD x 0.36 m2 (2x2 area) = 289.19
289.19 / 104 watts = 2.78 PAR Efficacy
12" Hanging Height PPFD: 627
18" Hanging Height PPFD: 483
Specs
Actual Power Draw: 100 watts
Spectrum: Full Spectrum White Light + 660nm Deep RED + 450nm Royal Blue
Coverage area (flower):
1 Unit                                               
2' x 2' area (.6m x .6m)                      
Max 2.5' x 2.5' (.75m x .75m)             
4 Units                                   2 Units
4' x 4' area (1.2m x 1.2m)      2' x 4' area (.6m x .1.2m)
Max 5' x 5' (.75m x .75m)      3' x 3' area (.9m x .9m)
Coverage area (Veg) for 1 unit: 
2' x 2' area @ 18"
3' x 3' area @ 24"
Hanging Height:
Flower:

 

8"-18"
Veg:

 18" - 

24"
Seedlings:

 

24-30" (Dimmed Down @ 50%)
       Pro Tips: Wk1-3 @18"  -  Wk4-6 @14"  - Wk7-10 @8"-9" 
PAR efficacy: 2.78 umol/j
Average PPFD in 2x2 area: 803 umol/m2/s
Lifetime: 100,000 hours  
Driver: Meanwell
Cables: 6-foot attached power cord 
Plug: USA, Canada, EU, Commercial, Industrial etc.
(We automatically ship the correct cord for your country)
Dimming: Yes, down to 10% intensity (dimmer included)
Hanger: Comes with adjustable rope ratchet & large carabiner.
Dimensions: 7" x 7" x 8"
Weight: 8 lbs
Recommended for:
Closet Grows
Cabinet Grows & Grow Tents
Supplemental Coverage
Warranty: 10 Years full warranty - Lifetime warranty on Meanwell Driver 
Grams per watt: Up to 2.25 g/w
Yield: Up to 225 grams / 7.14 ounces
Satisfaction
Guaranteed
Discreet
Shipping
Free Fast US Delivery
For Orders Over 99$
Guaranteed
Safe Checkout
Free, Fast Local Shipping
All continental US orders over $99 qualify for free shipping.
Discreet Shipping
We understand the importance of privacy to many of our customers. All orders placed on Growbuds are shipped in plain boxes without explicit identifying marks.
Estimated Arrival
Between 1 and 5 business days, depending on your location.
Easy Returns
For up to 90 days, depending on the brand.
Please refer to our Shipping & Returns policy page for more detailed information.

All products sold on Growbuds are subject to the respective manufacturer's warranty policy, which can be found on manufacturers websites or by contacting them. If your product fails in the remainder of our returns period, the manufacturer's warranty policy will prevail. In this case, send us an email at support@wegrowbuds.co and we will assist you in your warranty claim by helping you coordinate with the original manufacturer.
Our experienced commercial team has helped supply hundreds of indoor, outdoor and commercial greenhouses projects in Canada and the United States.
Looking to get a quick quote? Contact us at support@wegrowbuds.co or call at 1-877-900-2632 option 2 to talk with a Growbuds sales representative. Otherwise please fill out the quick form below and we will be in touch as soon as possible.
United States Headquarters
2915 Ogletown Road
Newark, DE 19713, United States
Canada Headquarters
295 Cure-Labelle Boulevard,
Laval, QC H7L 2Z9, Canada
Call Us
Toll Free: 1-877-900-2632
Hours: 9AM - 5:00PM EST
You may be wondering why you should buy your grow lights from us, instead of other available authorized dealers. Read on for the answers to all your burning questions.
10 Reasons To Trust Growbuds With Your Business
Customer Service
We are here to help and want the best for you. Use our live chat, email us at support@wegrowbuds.co or call us at 1-877-900-2632 during business hours. We are always here for you.
Full Warranties and Generous Return Policies
We only carry top American brands that back their products with full warranties and return policies of up to 90 days, depending on the brand.
Earn Growbuds Points
Earn points on all your purchase and save big on your next purchases. You'll earn 4 "Nugs" for every dollar your spend. You can then use your "Nugs" to save on your next grow room upgrades. Get started by creating a free account today.
Price Match
We want you to be absolutely secure that you're getting the best price with us, so we will not only match a lower price you find online before purchase, but will even refund you the difference up to a month after purchase.
Discreet Insured Shipping
All orders ship via FedEx, UPS, and USPS, or a reputable freight company and the shipment is always insured, so you do not have to worry about a lost or damaged package. You also don't need to worry about prying eyes: all orders ship discreetly.
Hassle-Free Returns
For up to 90 days, please refer to our Shipping & Returns policy page for more information.
Free Shipping
On orders over $99 to the lower 48 states.
No Sales Tax Anywhere
Except for MI, and CA for some brands.
Authorized Dealers
We only carry American brands whose lights and other products have been extensively tested by real growers and processors. 100% US warranty on all products.
Safe & Secure Systems
In place for every payment transaction.
Frequently Asked Questions
Growbuds Grow Club
Get the rewards you deserve. With the Growbuds Club, you'll earn rewards for every dollar your spend and save big on your future grow room upgrades. Get started by creating a free account today.
Get Started