Optic LED has now seamlessly integrated eight of CREE's largest most efficient COBs (XLAMP CXB-3590) with industry-leading glass optical projection lenses to give you unprecedented light penetration with the highest PPFD of any 500-watt lighting system.
The combination of these two technologies combined with a proprietary blend of 3-watt Osram LEDs will give you significantly improved grams per watt yield and significant increases in trichome density and quality.
Growing with the Optic 8+ you can expect to yield up to 2.5 pounds which is an incredible 2.4 grams per watt.
This fixture is ideal for vegging a 6' x 6' area or flowering a 4' x 4' to 5' x 5' area.
Spectrum
The Optic 8+ spectrum ranges from 380nm to 780nm, covering the entire PAR spectrum + UV-A and near-infrared (far red). The additional green light helps increase photosynthesis deep in the leaves and inside the canopy. Far-red light, when combined with red light, has been proven to increase the rate of photosynthesis.
Spectrum on OPTIC 8+ @ Full Power - All 3 Dimmers @100%
Spectrum for VEG - VEG Dimmer @100% & Bloom Dimmer @10% - only the COBS on. VEG Dimmer controls the two 5000k COBs which gives you more blue light and two 3500k COBs.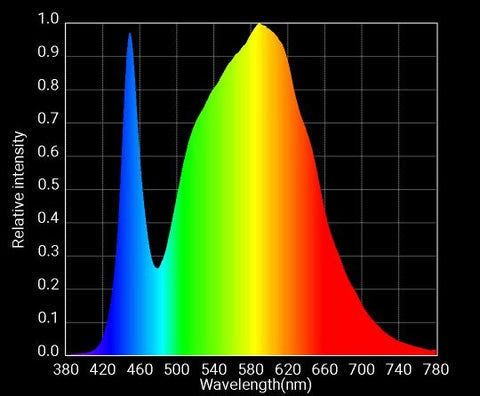 Spectrum of COBS only @ Full Power - Veg Dimmer @100%, Bloom Dimmer @100% & Bloom Enhancers Off. (Used in VEG & Flower)
Spectrum of Far Red Bloom Enhancers that include Ultra Violet & Infrared
PAR (PPFD reading in umol/m2/s at 24")
PAR (PPFD reading in umol/m2/s at 18")

Q: What about duties/import taxes on this item?
A: The shipment value is typically marked at $100-$200 USD so you will pay less for duties/import taxes.
Specs
Model/SKU: Optic 8+/op8+

Power output: 500 watts
HID equivalent: 1000 watt DE HPS
LEDs: CREE COBs & OSRAM secondary arrays
8 x CREE CXB3590 COB LEDs (132W max & driven 50W continuous)

6 x 3500k Daylight White COBs
2 x 5000k Cool White COBs 

32 x 3-watt OSRAM ultra-efficient LEDss with glass projection lenses
Optics: 90-degree or 120-degree optical projection lens directs light downwards, magnifies PAR and increases canopy penetration by up to 200%.
Drivers: Meanwell (Industry Best)
Spectrum: Full-spectrum + IR + UV  
PPF/Watt: : 2.4 umol/J
PAR Output: 1285 u/mols at center of footprint 
PPFD for 4x4 area @24" (90 degree Lens) : 678.46 umol/m2/s
(Apogee MQ-500 Used for PAR Meter Testing in 4x4 Grow Tent)
PAR Output: 1973 u/mols at center of footprint (120 degree Lens)
PPFD for 4x4 area @ 18" (120 degree Lens):
(Apogee MQ-500 Used for PAR Meter Testing in 4x4 Grow Tent) 
Average PPFD: 619.87 umol/m2/s
Recommended coverage area:
Veg: 6' x 6' @ 30" 

Flower: 4' x 4' @18"- 24" (1.2m x 1.2m)

or 5' x 5' (120 degree Lens) (1.5m x 1.5m)
Recommended hanging height:
Light Controls:
Dimmability: 3 Independent Dimmers
VEG: 4 COBS only, Controls two 5000K COBS & two 3500K COBs.
BLOOM: 4 COBs only, Controls four 3500K COBs.
BLOOM ENHANCER: 32 pcs 3W diodes, Controls UV & Osram secondary led array.
Switches:
Switch #1: ON/OFF
Switch #2: Bloom Enhancer
Proven Yield: Up to 2.67lbs / 42.72 ounces / 1,196 grams
Total yield: Up to 2.67
Thermal management: 9 x cooling fans, Aluminum heat-sinks
Dimensions: 27" x 27" x 4"
Weight: 36 lbs
Operating/Input Voltage: 100-265VAC
Amperage: 5-1.9 Amps
Product includes: 
Optic 8+ Grow Light
Ratchet straps
120V power cord (240v power cords available; we automatically ship the correct power cord for your country)
Recommended for:
Grow tents (4x4) (5x5) (8x8) (10x10) 
Grow rooms (all sizes)
Full-cycle growing from seedling to flower
Soil, hydroponic, aeroponic, or aquaponic systems
Manufacturer's Warranty: 10 year lifetime warranty
Life Expectancy: 10-13 Years 
Packaging: Plain brown discrete packaging with no labels.
Satisfaction
Guaranteed
Discreet
Shipping
Free Fast US Delivery
For Orders Over 99$
Guaranteed
Safe Checkout
Free, Fast Local Shipping
All continental US orders over $99 qualify for free shipping.
Discreet Shipping
We understand the importance of privacy to many of our customers. All orders placed on Growbuds are shipped in plain boxes without explicit identifying marks.
Estimated Arrival
Between 1 and 5 business days, depending on your location.
Easy Returns
For up to 90 days, depending on the brand.
Please refer to our Shipping & Returns policy page for more detailed information.

All products sold on Growbuds are subject to the respective manufacturer's warranty policy, which can be found on manufacturers websites or by contacting them. If your product fails in the remainder of our returns period, the manufacturer's warranty policy will prevail. In this case, send us an email at support@wegrowbuds.co and we will assist you in your warranty claim by helping you coordinate with the original manufacturer.
Our experienced commercial team has helped supply hundreds of indoor, outdoor and commercial greenhouses projects in Canada and the United States.
Looking to get a quick quote? Contact us at support@wegrowbuds.co or call at 1-877-900-2632 option 2 to talk with a Growbuds sales representative. Otherwise please fill out the quick form below and we will be in touch as soon as possible.
United States Headquarters
2915 Ogletown Road
Newark, DE 19713, United States
Canada Headquarters
295 Cure-Labelle Boulevard,
Laval, QC H7L 2Z9, Canada
Call Us
Toll Free: 1-877-900-2632
Hours: 9AM - 5:00PM EST
You may be wondering why you should buy your grow lights from us, instead of other available authorized dealers. Read on for the answers to all your burning questions.
10 Reasons To Trust Growbuds With Your Business
Customer Service
We are here to help and want the best for you. Use our live chat, email us at support@wegrowbuds.co or call us at 1-877-900-2632 during business hours. We are always here for you.
Full Warranties and Generous Return Policies
We only carry top American brands that back their products with full warranties and return policies of up to 90 days, depending on the brand.
Earn Growbuds Points
Earn points on all your purchase and save big on your next purchases. You'll earn 4 "Nugs" for every dollar your spend. You can then use your "Nugs" to save on your next grow room upgrades. Get started by creating a free account today.
Price Match
We want you to be absolutely secure that you're getting the best price with us, so we will not only match a lower price you find online before purchase, but will even refund you the difference up to a month after purchase.
Discreet Insured Shipping
All orders ship via FedEx, UPS, and USPS, or a reputable freight company and the shipment is always insured, so you do not have to worry about a lost or damaged package. You also don't need to worry about prying eyes: all orders ship discreetly.
Hassle-Free Returns
For up to 90 days, please refer to our Shipping & Returns policy page for more information.
Free Shipping
On orders over $99 to the lower 48 states.
No Sales Tax Anywhere
Except for MI, and CA for some brands.
Authorized Dealers
We only carry American brands whose lights and other products have been extensively tested by real growers and processors. 100% US warranty on all products.
Safe & Secure Systems
In place for every payment transaction.
Frequently Asked Questions
Growbuds Grow Club
Get the rewards you deserve. With the Growbuds Club, you'll earn rewards for every dollar your spend and save big on your future grow room upgrades. Get started by creating a free account today.
Get Started