AutoPot® Systems
AutoPot supplies simple to use automatic watering systems that can be used either as a hydroponic system or as a traditional soil irrigation system. Indoor growing and greenhouse crops can be produced with ease.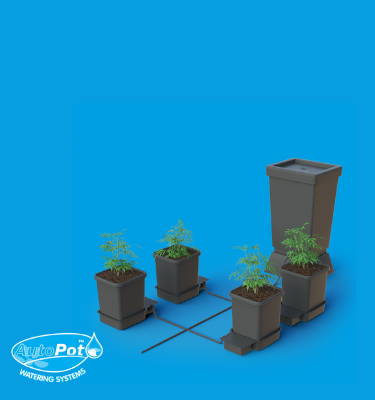 Financing Available

At Checkout

Where do we find the product dimensions?
These are all shown in the online shop typically under each items description tab
Can I use organic nutrients with AutoPot Watering Systems?
AutoPot Watering Systems equipped with AQUAvalve5, 9mm pipework, and 9mm fittings can be used to feed mineral or organic fertilisers via the reservoir and pipework. Organic fertilisers will require a water pump in the reservoir running for 15 mins every 2 hrs and cleaning of the reservoir, pump, and filter each time the reservoir empties. Flush pipework with plain water every time the reservoir empties.
How does AutoPot Watering Systems work?
As the plants in the AutoPot module begin to feed and consume the nutrient solution, the water level begins to drop. ... As a result the water level in the bottom float chamber remains high, so the bottom float remains at its maximum level keeping the bottom valve closed and stopping water from entering the AutoPot module.
Which grow medium should I use?
Many of our customers like the versatility of the AutoPot. There are many types of growing media that can be used as well as nutrients. Coco Coir on its own or mixed with perlite, pumice, or rice hulls has proven to work great.
Are AutoPot Watering Systems any good?
AutoPot Systems are a great investment – they're low cost, cheap to run & easy to use. They're infinitely expandable, and don't use any power whatsoever! Use yours wisely and you'll get great yields.
Do AutoPot Watering Systems increase yields?
At AutoPot, they call this technology PCI or Plant Controlled Irrigation. The hotter the day or the bigger the plants, the greater their feeding needs. This affects how often the AQUAvalve opens and closes. With unrestricted access to water and nutrients, you get huge yield increases.
Questions? Bulk Pricing? Ask us anything!
Financing Available

At Checkout